Through the design and manufacture of oxidizers and dryers, we had been continuing to seek the ideas, how to operate the dryer safely and how to keep energy saving.
On the other hand, it became another matter that the investment cost of oxidizer was getting up higher, because of increase of exhaust gas volume to be treated by oxidizer.
To solve the matter, we started our project to develop the new system intending to "how to reduce the volume of exhaust gas from dryer, in other words, how to increase the recycling rate of hot air for dryer safely and how to increase the solvent concentration in exhaust gas in a safety range".
In this project, based on optical interferometic method gas analyzer by RIKEN KEIKI Co., Ltd., we succeed to develop the new system called "TGCS:TED Gas Control System" that analyze the solvent concentration in the dryer continuously and control the flow rate of exhaust gas automatically so that to meet to the preset solvent concentration rate of exhaust gas.
By combining TGCS and the oxidizer, we succeed in reducing of exhaust gas volume and designing for energy saving system, which came to the result of big cost saving for the investment of oxidizer and its incidental facilities.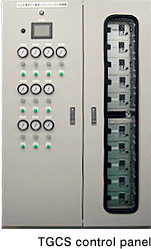 Features of optical interforometic method gas analyzer
Down sizing and cost reduction

Compared to the conventional type, it is smaller and good cost performance
Long life time and minimal maintenance cost

Optical interferometry sensor makes no sensitivity deterioration.
Applied LED as light source, and CCD as receiver makes low deterioration.
No sensitivity degradation

No sensor poisoning by corrosive gas and silicon vapors, by noncontact measurement.
Additional features

Various functions, such as temperature and pressure compensation, by microcomputer
No warm up operation

Warm up operation is not required, which needed in conventional type product
Self-diagnosis function

Alarm for flow decrease (Deterioration of the pump, clogging of the filter)
Alarm for lighting source (Lighting source degradation, dirt in drying chamber)
Alarm for contrast error (Dirt in drying chamber, degradation of the CCD)
Quick response

Quick response is achieved by continuous suction method
Control function

PID control and feed-forward control is possible by digital indicating controller installed with dedicated program
Sensitivity difference is small

Easy readjustment and setting of controller because of small difference of sensitivity even change the type of targeting gas.
Most suitable solution for the mixed type solvent
Merits of TGCS
Keep safety operation by measuring the solvent density in the dryer stably for a long time period.
Great result for energy saving by reducing the energy for dryer heat source controlling the solvent density in the dryer constant.
Saving the initial cost and installation space by downsizing the system caused by reducing the total exhaust gas volume.
Saving the auxiliary fuel cost by concentrate solvent in the dryer before entering in to the oxidizer. (In catalytic type or RTO, "self-combustion" is possible.)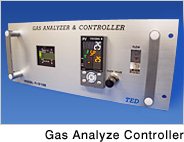 System flow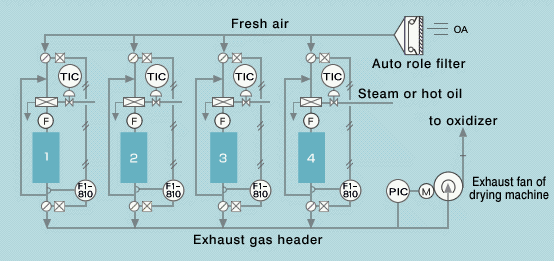 TGCS flow diagram